---
Workshops facilitated by Glenda Dietrich Moore: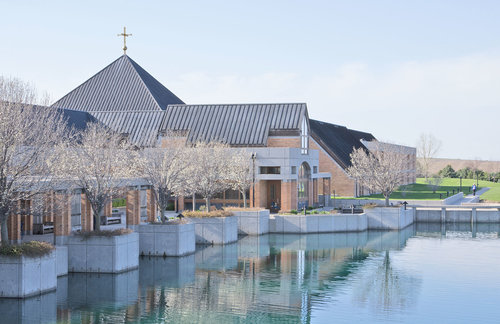 Offered at St. Benedict Center in Schuyler, Nebraska:
Creative Praying with The St. John's Bible – Saturday, August 19, 2023

Enjoy a day of contemplation and creativity with the aid of The St John's Bible. The St. John's Bible beautifully presents both Scripture and Illumination, and both will be used as we prayerfully reflect and respond from our creative selves. Our starting point will be selected sections of Scripture (lectio). Illuminations (visio) from the St. John's Bible will aid us in going deeper into the Scripture. We will then be invited to visually express what is in our hearts.
Very simple art materials will be used in a non-threatening manner while focusing on the process rather than the end product, and NO previous art experience is necessary. Paint, oil pastels, collage materials, colored pencils, and paper will be provided; participants may wish to bring any art materials they have available, such as colored gel pens, markers, glue, scissors, calligraphy pens and ink. Please register no later than August13.
St. Benedict's Center has a Heritage Edition of The St. John's Bible and illuminations from it on display. To read more about the Bible's calligraphy and artwork, explore The Saint John's Bible website.

Cost: $57.87  (Includes program fee, materials, meal and taxes)
————————————————————————————————————————————————————————
---
Watercolor Workshops – See Art Classes
Explorations in Creativity Workshops

– custom designed for your group:
Smile!  Play!  Relax!  Create!
Explorations in Creativity workshops are designed to provide a casual structure of reflection, discussion, and hands-on expression with art materials within a community of like-minded people. Workshops are tailored to meet the goals of your group. Objectives may include themes such as creative problem-solving, imaginative approaches to the demands of caring for people, improved communication, and/or the value of self-nurture.
Workshops are designed for your specific group: Caregivers, Healthcare Providers, Co-workers, Spiritual Seekers, Church Groups, Pastors…any group seeking to focus on renewal, self-enrichment, and/or a better working environment. Contact Glenda to discuss the needs of your group.

Glenda Dietrich Moore, M. Div. and B.F.A., is an artist, certified spiritual director, and ordained minister with the Christian Church (Disciples of Christ.) Her ministry in the arts, called "Creation Energy," celebrates faith, creative expression and the vibrancy of life. Glenda leads workshops and retreats helping people experience balance and renewal through the creative process.